Nearly all schools in Glasgow will close due to a Unison strike next week.
Unison members taking industrial action on November 1 include administration staff, catering, janitorial, cleaning services and school crossing patrollers, across Inverclyde, East Renfrewshire, Renfrewshire and Glasgow.
The strike is part of a "rolling programme of action", with further dates in other councils to be announced, after Unison rejected a pay offer from Convention of Scottish Local Authorities (Cosla).
The revised offer represents a minimum increase of £2,006 for workers on the Scottish local government living wage, and a minimum of £1,929 for those above the rate.
The living wage of £10.85 will rise to £11.89 per hour – equivalent to a 9.6% increase.
A letter from executive director of education services at Glasgow City Council, Douglas Hutchison, said all nurseries and primary schools, and additional support learning schools, would close on November 1.
Secondary schools in Glasgow will only be open for S4–S6, except for Ard-sgoil Ghaidhlig Ghlaschu which will be closed to all pupils, which is staffed by council workers.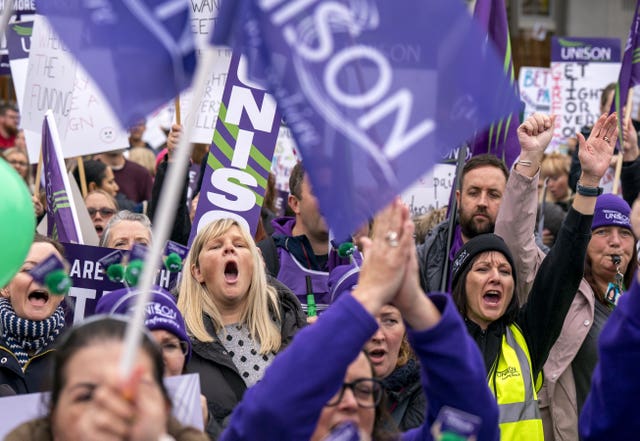 The letter said: "The strike involves a high percentage of our Education Services staff and will include support for learning workers, escorts, administration staff, catering, janitorial, cleaning services and school crossing patrollers.
"It is therefore not possible to secure a safe environment and provide lunches for our young people or maintain continuity of learning. I am sorry that you will have to make alternative arrangements for your children once again.
"We will continue to work on alternative arrangements right up to the date of the strikes and if there is any change based on individual risk assessments and suitable catering arrangements being available, I will contact individual schools."
A Glasgow City Council spokesperson said: "Letters have been issued to all our nurseries and schools today with information on closures due to Unison's industrial action next week.
"It is just not possible to keep our schools and nurseries open due to the numbers expected to take part and we apologise to our families for having to make alternative arrangements once again.
"We have been able to keep pupils in S4 – S6 in school and who are preparing for exams."